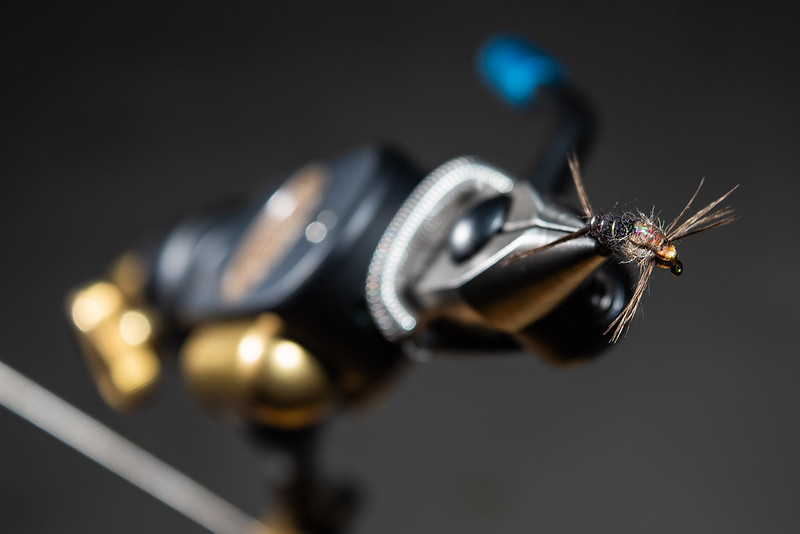 Fly Tying to Save Money? See the Numbers
Fly Tying to Save Money? See the Numbers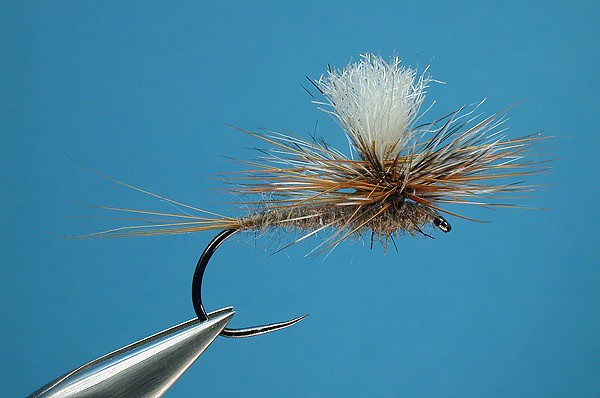 See the "Buy vs Tie" debate by the numbers, including 300 flies plus equipment as the case study, below. We can answer the direct question, Is fly tying to save money possible? The short answer is…maybe, but with plenty of caveats. Before we get to the hard facts, let's look at why someone would want, or even need, to tie their own flies. I am sure there are more, here are a few:
Limited Availability. You can get flies from several internet merchants delivered to your door in just about any part of the world. I am talking about having "the fly" required for the purpose when you need it. Even a trip to the fly shop may not be possible after the frantic call from your buddy, at 8:00 PM, the night before a trip saying the "green drakes are on early!" and your fly box is void of anything even close. To the bench!
Quality Control. There can be great variations from fly to fly. Some producers are upfront about the materials they use (i.e. manufacturer of the hook). However, the better the "deal" on a fly, the better chance these were tied using production-quality materials, on an assembly line, by someone copying a copy of a copy.
Regional Variation. Perceived and real. The "same" insect may be different at times of year or place to place. Just look at the Blue Winged Olive (BWO) variations in color (more yellow, more brown, more grey) and sizes (from #20 to #14). The ability to adapt for these differences can certainly be an advantage.
Outlet. I am not going to argue about the categorization of fly tying as an art, craft, hobby or some combination of all that or more. It does take an eye for proportions (art), you tend to improve with practice (craft) and most people do it willingly in their free time (hobby). Some work to "fill the fly box" while others look forward to the "off-season" to tie flies as much as they look forward for the fishing to pick back up again.
I Did it! Catching a fish on a fly is arguably the most often the most difficult way to go about it and is very satisfying when it happens. Catching a fish on a fly you tied yourself is about as good as it gets.
I Like it! Enough said.
Initial Investment
"One way to think about it is you are starting your own fly tying business, even if you never plan to sell a fly. You are the consumer"

A wise fly tyer
The prices listed below are for a basic, but quality, version of the item (you can pay much more for fancier stuff). Materials and prices are from reputable sources at the time of this post. Taxes are calculated at 7% and no shipping or other fees are considered. Let's assume, for these purposes, you start from scratch with these tools. Special Note: You can save money by buying a clamp-on vise but this pedestal vice is truly the one part of this I don't consider to be an option. It is a quality tool and a pleasure to use. It will last your lifetime. Unfortunately, a shitty clamp-on version will also haunt you for about that long
| | |
| --- | --- |
| Pedestal Rotary Vice (not a table clamp) | $215.00 |
| Good Scissors (for fine work) | $20.00 |
| Average Scissors (wire cutting, etc) | $10.00 |
| Hackle Pliers (plastic hook style) | $8.00 |
| Hair Stacker (single, basic bronze) | $10.00 |
| Thread bobbin (metal tube) | $10.00 |
| Bodkin (lots of uses) | $9.00 |
| Dubbing Loop Spinner | $12.00 |
| Whip Finish Tool | $10.00 |
| Head Cement | $3.00 |
| Total | $307.00 |
Basic Starter Kit. You can tie all flies mentioned here with the above.
Outside of some specialized flies (say tube flies) and specialized techniques (making dubbing brushes) these tools will allow you to effectively tie most any fly and certainly the ones below. You got the gear, let's talk about putting it to use to try and get you those savings.
300 Flies – Fly Tying to Save Money Test
I have chosen three flies for consideration. The midge is the simplest. The Adams is one of the most popular patterns of all time. The Mini Dungeon (smaller version of the original Dungeon) is a newer and popular articulated body (two hooks wired together) pattern and represents some advanced tying techniques (like deer hair spinning) and a longer materials list:
#18 Bead head Zebra Midge – Easy to tie, no feather hackle, thread body.
#14 Parachute Adams – Intermediate to tie, feather hackle, dubbed body.
#4/#6 Galloup's Mini Dungeon – Advanced, articulated body, spun deer hair head.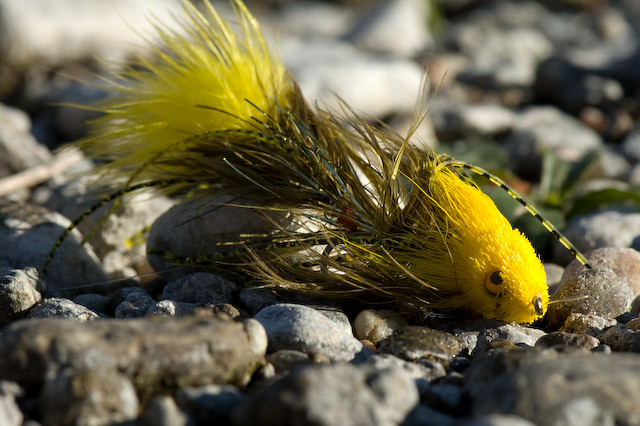 I used three, reputable, online sources for pricing each fly. I posted the average below. Again, you may find them for more or less other places. The quality of these flies line up with the quality of the materials in the lists below for each pattern:
18 Bead head Zebra Midge – $2.25
14 Parachute Adams – $2.74
4/#6 Galloup's Mini Dungeon – Natural – $6.80
Here are the typical recipes for each fly as close to the original as I could find. The Galloup's Dungeon was from a tying video produced by Kelly Galloup. The cost breakdown is listed for each. An attempt was made to get as close to materials to produce 100 flies as possible. There may be some dubbing, thread, wire, or other material left over but that is the case with many materials you buy for even 100 flies. Given the cost and quantity remaining, it is pretty much a wash: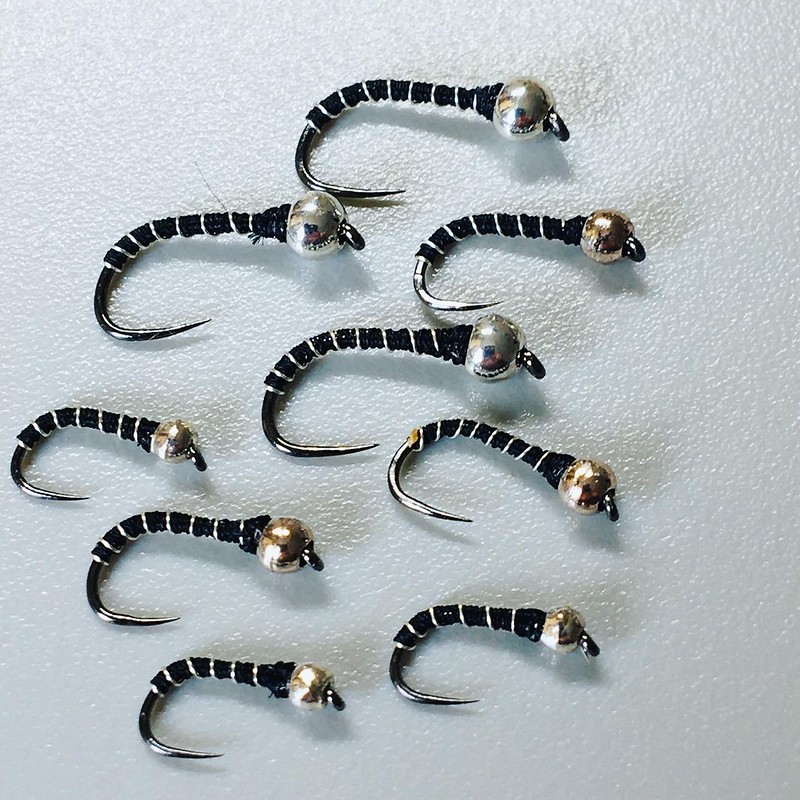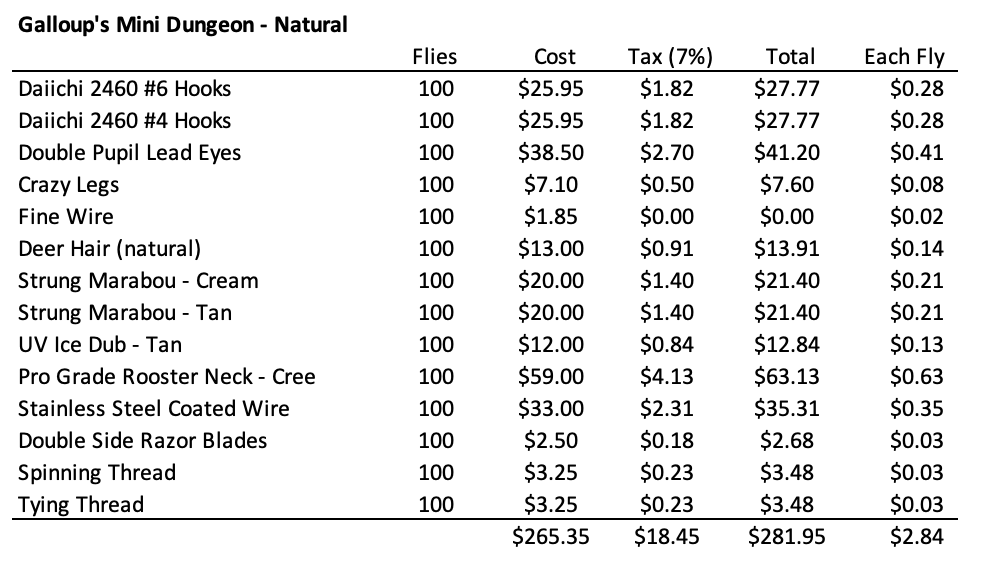 So, if we just looked at the material cost for each fly (not your time or initial equipment), here are the savings based on purchased cost vs. tied cost per fly for the respective 100 tied flies:
#18 Bead head Zebra Midge: $2.25 – $0.71 = $1.54 per fly saved
#14 Parachute Adams: $2.74 – $0.87 = $1.88 per fly saved
#4/#6 Galloup's Mini Dungeon – Natural: $6.80 – $2.84 = $3.96 per fly saved
Not factoring in time or initial equipment, you would have to tie the following number of flies to get to the "break-even" point after the initial purchase of materials to make the flies. This is where the cost of tying the next fly makes that fly cheaper than buying it.
This is important to consider as you will buy hackle, dubbing, thread, wire and other things that are required for 1 fly or 100 flies. This also assumes all of these flies are "fishable":
#18 Bead head Zebra Midge – 32 flies
#14 Parachute Adams – 33 flies
#4/#6 Galloup's Mini Dungeon – Natural – 42 flies
When you are done with your 100 flies each, here is what the total dollar difference would look like purchasing vs. buying the materials and tying them yourself. Again, assumes you tied all "fishable" flies:
18 Bead head Zebra Midge: Buy $225, Tie $71, Save $154
14 Parachute Adams: Buy $274, Tie $87, Save $188
4/#6 Galloup's Mini Dungeon – Natural: Buy $680, Tie $284, Save $396
Fly tying to save money looks compelling so far, but let's get into some of the other factors to consider.
Fly Tying to Save Money? – Other Factors to Consider
Initial Costs. Until now, we have only been calculating material costs. If you really want to answer the question of "can you save money tying your own flies?" you must factor in your initial investment. So, in this example, you would have to apply all your savings from tying vs. buying toward initial equipment costs. If you add the savings from 100 Zebra Midges and 100 Parachute Adams, you saved $342. Subtract the original investment of $307 and you can now divide $35 of savings across 200 flies or $0.18 each. Good news. Once you cover these costs, all flies are free of this overhead and decent tools will last you a lifetime of tying.
Your Time. If you consider time tying flies as a hobby or other form of enjoyment, skip this section. If you want to factor it in, you better get real good at cranking out flies. It can be done and individuals make, at least some of, their livelihood selling flies. If you get to that level and start selling flies, the math will change in your favor. Until then, estimate 10 minutes per fly (probably will take you longer) and you work at minimum wage at $7.25/hour (at the time of this post). You can add $1.21 to the cost of each fly. For a reference, Kelly Galloup's tying video for the Mini Dungeon was over 53 minutes long. Granted, he ran his mouth throughout (not a shocker) and didn't put a hook in the vise until around the 12-minute mark. The rest of the time he was working on the fly. So I would say it took him every bit of 30 minutes to tie the actual fly.
New Fly, New Material. Past your initial investment in equipment, most everything you buy is a "consumable". It is purchased with the intent to be used to make a final product, your fly. My example of flies thus far have been fairly simple from a materials perspective. Check any fly tying supplier website and you will find all kinds of dyed fur and feathers, synthetic materials and specialty products meant for specific types of patterns. As you progress in this venture, it is inevitable you will want to try to tie the hot new pattern or add a whole new species to the list that will need specific flies (and more specialized materials).
Bad Examples. Admittedly, the examples I used in this post were for demonstration purposes of the "300 Fly Test". It is very unlikely anyone would ever need to have 100 Mini Dungeon flies on hand at any given time. You may end up tying 100 midges over several productive seasons of fishing but they will be, most likely, a variation on a theme with different materials (which you will have to buy) that will add to the cost of subsequent flies. A guide's burn rate will exceed that of the casual fisherman so economies of scale will differ.
Fly Tying Upgrades & Accessories. Once you fall into it all the way, not only will you want to start replacing your $10 thread bobbin with the latest CNC machined, laster engraved, spring-loaded, adjustable drag, titanium coated, ultra high mellecular ceramic tube model, but you will also start needing a place to store all the stuff by purchasing containers, drawers and bins. You may also need a whole new place to continue your journey which may include a modular fly tying bench or dedicated space in your living situation.
You Suck. Up until now, we have considered every one of the 100 flies each you tied are flawless carbon copies, falling just short of a hook-impaled version the actual live animal. This will not be the case. The most used tool for your first dozen or so flies should be the razor blade to clear it off and start over.
Fly Tying Friend. It will not stay a secret long that you now tie flies. Most likely because you won't be able to keep it a secret yourself. Proudly displaying your fly box to your fishing buddies with the "look what I did" grin on your face. Hopefully, you can stay clear of becoming the new local fly shop (unless you are into it). Tied flies lose their value quickly outside the normal retail environment dollar for dollar, but can be great bartering currency, bass bugs for beers. What could be more American than that?
So, fly tying to save money, can it be done in your world? The more important thing may be to ask is why you want to tie flies. If saving money is the sole motivation, you may never tie enough to make it pay. If you enjoy it, it will pay for itself.
Leave a comment and let me know what you think. You can also contact me.